KING RIVER GORGE RAFT AND STEAM EXPERIENCE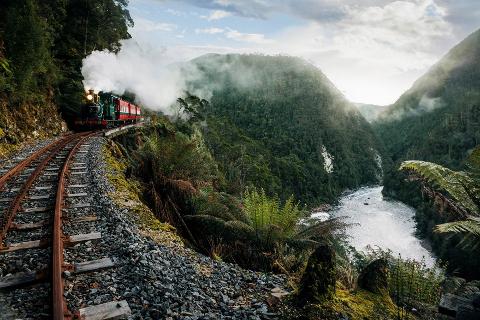 Duration : 6 Hours (approx.)
Location: Queenstown, Tasmania
Product code : PPBP1K
King River Gorge Raft and Steam Experience
The King River Gorge, Raft and Steam Experience is a
collaborative adventure between King River Rafting and the West Coast
Wilderness Railway.
There are few places in the world where one can combine the
thrill of white water rafting with a steam train shuttle back to your start
point. Only on the King River is the
rafting is through a remote rainforest gorge past thousands of ancient Huon
Pine trees and the return steam train is over a steep ridge using the rack and
pinion Abt system to move the train out of the gorge and safely down the other
side.
We will meet you at the West Coast Wilderness Railway
Station in Drifield Street, Queenstown. There
we get changed and drive a short distance to our put in at the King River,
surrounded by the mountains of the West Coast Range. After a safety brief, we all work together to
safely navigate our raft through the rapids of the King River Gorge. The final rapid as the river exits the gorge
is the Sailor Jack Rapid. From here the
West Coast Wilderness Railway is visible and the train will pause on its
descent to Dubbil Barril. We take the
walking track around the Sailor Jack Rapid, some guests report that the portage
is one of the most challenging things they have done.
From here it is a short distance rafting a few smaller rapids
and serene pools to the Dubbil Barril Railway Station. We meet the West Coast Wilderness Railway,
and enjoy the comfortable steam train return journey to Queenstown with coffee
at Rinadeena and a bit of gold panning at Lynchford.
Back in Queenstown by early afternoon everyone has had a
unique and memorable day.
KIng River Rafting takes pride in its ability to safely show
case Tasmania's wilderness in a way that involves active participation and an
achievable personal challenge for all our guests.
The tour will leave Queenstown from the West Coast Wilderness Railway station, in Driffield Street, Queenstown, about 8.00 am returning you to Queenstown about 2 pm. On Wednesday 10 January 2018 departure time is 12.00, returning about 6.00 pm.