KING RIVER STEAM RIVER & RAFT EXPERIENCE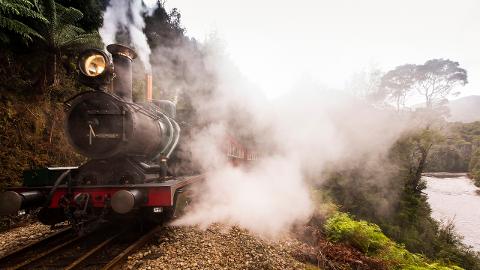 Duration : 1 Days (approx.)
Product code : PCP8HO
Steam, River and Raft - a full day of safe fun and adventure on the West Coast
Steam – start your experience in Queenstown on board the historic steam train that has been traversing the inhospitable terrain for the past 118 years! Sit in comfort and enjoy the wilderness from the comfort of the restored heritage carriage and hear tales of hardship, the characters and how the terrain was tamed to allow Queenstown to sell its ore to the rest of the world.

River – admire the King River gorge and majestic rainforest from the comfort of your carriage….

Raft – leave the comfort of the train deep in the rainforest at Dubbil Barril and take the plunge into the King River and swap the comfort and luxury for an adventure in a raft as the qualified and experienced guides safely navigate the raft down the smaller rapids of the King River. Enjoy lunch along the banks of this once mighty, untamed river and continue until you reach Macquarie Harbour where you will be picked up and transported back to where it all began , Queenstown.
The tour will leave Queenstown from the West Coast Wilderness Railway station, in Driffield Street, Queenstown, about 8.00 am returning you to Queenstown about 2 pm. On Wednesday 10 January 2018 departure time is 12.00, returning about 8.00 pm.